Westchester Gardens Rehabilitation Care Center Receives Highest Rating From U.S. News & World Report
WASHINGTON, D.C. AND CLEARWATER, FLA., (March 5, 2015) –Westchester Gardens Rehabilitation Care Center in Clearwater, Fla., managed by The Goodman Group, has received the highest possible overall rating of five stars in U.S. News & World Report's seventh annual "Best Nursing Homes," available exclusively at www.usnews.com/best-nursing-homes. Westchester Gardens, the premier short term rehabilitation care facility in the Clearwater area, offers a full range of services, including comprehensive rehabilitation services, physical/occupational/speech, a stroke management program, skilled nursing, and short-term stays, as well as hospice, respite, transitional sub-acute and long-term care.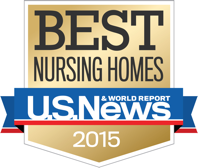 Created by the publisher of Best Hospitals and Best Children's Hospitals, the Best Nursing Homes 2015 ratings highlight the top nursing homes in each city and state, out of nearly 16,000 facilities nationwide. The goal is to help users find a home with a strong track record of quality care. According to Centers for Medicare and Medicaid Services, about 60 percent of individuals over 65 years old will require some type of long-term care services during their lifetime and over 40 percent will receive care in a nursing home for some period.
To create Best Nursing Homes 2015, U.S. News drew on data from Nursing Home Compare, a program run by the Centers for Medicare & Medicaid Services, the federal agency that sets and enforces standards for nursing homes. U.S. News awarded the "Best Nursing Homes" designation to facilities that recently earned the agency's highest overall rating of five stars.
"We are very proud of our staff and their dedication to providing exceptional Platinum Service® and care for our residents and this national recognition," said David Fitts, executive director, Westchester Gardens Rehabilitation Care Center. "We are also proud to be among the approximately 23 percent of all senior living facilities that earned an overall 5-star rating in the state of Florida."
"Finding the right place for an elderly loved one is a challenge millions of Americans face each year," says Brian Kelly, editor and chief content officer of U.S. News. "We hope our Best Nursing Homes ratings, advice and tools help them navigate this important decision."
Along with the ratings, U.S. News has published a series of articles on questions to ask when choosing a nursing home, and how to spot warning signs of bad care, understand how the federal Affordable Care Act affects senior care, and otherwise manage the emotional and financial challenges of dealing with an aging loved one.
---