Westchester Gardens Health & Rehabilitation Named 2019-20 Best Nursing Home by U.S. News & World Report
Short-Term Rehabilitation Rating Incorporates Several New Measures of Quality
Clearwater, Fla. (Nov. 20, 2019) – Westchester Gardens Health & Rehabilitation, a skilled nursing community located in Clearwater, Fla., has been recognized as a 2019-20 Best Nursing Home by U.S. News & World Report, the global authority in health care rankings, available at http://www.usnews.com/best-nursing-homes.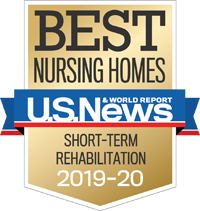 For the 2019-20 ratings, U.S. News & World Report evaluated more than 15,000 homes nationwide, in every state and nearly 100 major metropolitan areas. This year, 2,969 nursing homes earned the designation of a U.S. News Best Nursing Home. The number of facilities that received a Short-Term Rating was 13,683, while only 2,250 homes earned a High-Performing Rating. This year, the Short-Term Rehabilitation Ratings newly incorporate several measures of quality, including consistency of registered nurse staffing, use of antipsychotic drugs and success in preventing falls.
"For the aging population in America, a nursing home should meet the specific level of care based on the needs of each patient or resident," said Kim Castro, editor and chief content officer of U.S. News. "The U.S. News Best Nursing Home ratings hone in on measurements like emergency room visits, quality of staff and proper distribution of medical and physical therapy to help families make an informed decision. These ratings help individuals and their families begin their search for senior care and should be used in consultation with a medical professional and in-depth on-site visits."
Now in its 10th year, the U.S. News Best Nursing Homes offer comprehensive information about care, safety, health inspections, staffing and more for almost all nursing homes in the country. With this tool, individuals can easily conduct a customized search for a highly rated nursing home by location, Medicare and Medicaid coverage, Alzheimer's care and size. The Best Nursing Homes reflect U.S. News' analysis of data collected and published by the federal government using a methodology defined by U.S. News that evaluates factors that U.S. News has determined most greatly impact patient and resident care, safety and outcomes.
"I am so proud of the team at Westchester Gardens Health & Rehabilitation and the way they put Platinum Service® into action on a daily basis. They put the residents at the center of everything we do, and truly make a difference in the lives of the residents and families we serve," said David Fitts, executive director at Westchester Gardens Health & Rehabilitation.
For more information, contact Westchester Gardens Health & Rehabilitation at 727-785-8335.
SOURCE: U.S. NEWS & WORLD REPORT
---